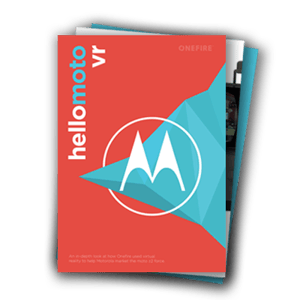 A Case Study About VR & Motorola
When Motorola needed a more interactive marketing piece for their flagship phone: moto z2 force, ONEFIRE created a virtual reality (vr) experience that surpassed expectations.
Motorola was looking for a way to highlight the moto z2 force's Google Daydream View capability and showcase some of its defining features, like its Moto ShatterShieldTM display and compatible moto modsTM.
With a device that was VR-ready, Motorola was looking for an immersive experience to demonstrate the features to carrier reps across the country. ONEFIRE delivered.